The wiki for Doctor Who collectibles and merchandise that any Doctor Who fan and collector can edit
We currently have... 371 DVDs | 617 Books | 668 CDs | 115 Toys | 153 VHSes | 90 Magazines | 450 Comic books
How to join for free!
Not registered?Edit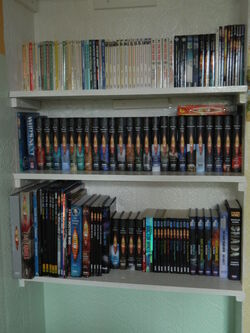 Are you a Doctor Who Collector? Want to contribute? Then join here to open a FREE Fandom account so that you too can join with your fellow Doctor Who Collectors and edit pages, add pictures and comment on your own collection.
Just joined?Edit
Something from your collection not here? Add it to the wiki now!
Not sure where to start?
Find out more about Doctor Who Collectors Wiki, on the About page.
If you are new to wikis, check out the

tutorial

, and see Help:Contents.
Why not catalogue your collection on your User page.
Adding content
Doctor Who Collector News
20 April 2017 - Dethras CD released
20 April 2017 - The Shining Man book released
20 April 2017 - Plague City book released
20 April 2017 - Diamond Dogs book released
19 April 2017 - Alien Heart/Dalek Soul CD released
18 April 2017 - Torchwood - The Dollhouse CD released
13 April 2017 - Spare Parts vinyl released
12 April 2017 - The Twelfth Doctor: Year Three - Issue 1 comic book released
11 April 2017 - The Helm of Awe CD released
6 April 2017 - Doctor Who Magazine Issue 511 released
Doctor Who, Torchwood, The Sarah Jane Adventures, Class, K9 and Company, "the TARDIS", the sonic screwdriver, psychic paper, the Daleks, the Cybermen, the K9 prop — and all characters, concepts and situations described and displayed on this wiki — are © and or ™ the British Broadcasting Corporation, BBC Worldwide, Metal Mutt Productions and/or their individual creators and licensees. No infringement of any entity's legal rights is intended.
Ad blocker interference detected!
Wikia is a free-to-use site that makes money from advertising. We have a modified experience for viewers using ad blockers

Wikia is not accessible if you've made further modifications. Remove the custom ad blocker rule(s) and the page will load as expected.